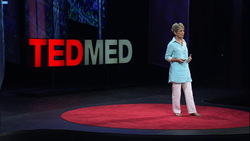 Oakland, CA (PRWEB) September 12, 2014
MEDICC today announced founder Gail Reed delivered an inspirational talk on the Latin American Medical School (ELAM) at the TEDMED 2014 conference in Washington, DC, the health and medicine edition of the world-famous TED conference. The first speaker in the session Flat Out Amazing, Reed highlighted the unique mission of ELAM: to train physicians for the people who need them most, offering free scholarships and medical training to students from around the world who pledge to return home to practice medicine in underserved communities.
Since its founding in 2005, ELAM has graduated 23,000 doctors, with 10,000 more in the pipeline, making it the worlds largest medical school. Graduates come from 83 countries in the Americas, Africa and Asia, to study in Havana; and enrollment has grown to 123 nations. More than half the students are young women. The diverse study body represents over 100 ethnic groups, speaking 50 different languages.
Describing the critical need for ELAM training and its physicians, Reed explained, Because our global health crisis is fed by a crisis in human resources, we are short four to seven million health workers, just to meet basic needs.
The curriculum at ELAM covers basic and clinical sciences in Spanish, combined with the unique elements of community-based learning in clinic classrooms and neighborhoods, and an emphasis on integrating principles of public health and preventative medicine.
Reed continued with examples of how ELAM graduates are leading the way and bringing healthcare to communities worldwide: the establishment of Honduras first indigenous hospital and the building of a new public health system for Haiti after the 2010 earthquake.
She concluded with a call to action to support the ELAM physicians and described this new kind of doctor that the world needs now in order to provide healthcare for all. Reed said, An ELAM graduate is more likely to be a she than a he; in the Amazon, Peru or Guatemala, an indigenous doctor; in the USA, a doctor of color who speaks fluent Spanish. She is well-trained can be counted on, and shares the face and culture of her patients. And she deserves our support, surely. Because whether by subway, mule or canoe, she is teaching us to walk the walk.
In addition to the speech in Washington, DC, MEDICC hosted viewing parties of Reeds TEDMED talk in Oakland, CA, at Samuel Merritt University and Atlanta, GA, at Emory University. Reeds full TEDMED talk will be available soon on MEDICCs website: http://www.medicc.org
MEDICCs award-winning documentary film
thefitnesscircle.org/nutrisystem/
Live